Ever the optimist, I'd booked a week off work in September on the off chance I might be allowed to travel to exciting hot, mountainous, European places without the need to lock myself away for two weeks on return. Alas, as is so often the case in 2020, my optimism turned out to be ill‐founded. Determined to wring some adventure and bread and cheese eating out of the summer; I cobbled together a hasty plan ‐ capitalising on some of 2020's rare good fortune that the PMBA enduro at Graythwaite was going ahead, and my brother had a flat in Edinburgh with a sofa‐bed. I decided to ride from the race in the South Lakes, to Edinburgh ‐ surmising (based on my extensive* cycletouring and bikepacking experience) that I needed about 5 days to complete it allowing for extended heritage site / wildlife / cake‐based distractions.

*I mean; I've definitely done an overnight bike trip at least once in the last decade and I've committed to some seriously thorough research (endlessly scrolling #bikepacking posts on Instagram totally counts).

My route would meander through Grizedale Forest, North through the lakes and on to Carlisle. From Carlisle I'd head for the Scottish border at Kershope Forest and trudge along the border to Kielder Water. If I ever escaped Kielder; I'd tromp through rural Northumbria to Alnwick and out to the stunning Northumberland coast. From there it would be a simple case of keeping the sea to my right 'til I stumbled upon Auld Reekie!

I'd decided to go for a touring rather than bikepacking set up, as I wanted the extra comfort of a tent and dry pants for the week; panniers would allow for the additional bulk where borrowed and bodged bikepacking kit wouldn't.

Unsurprisingly I'd done next to no preparation or planning for either the race or the ride when all of a sudden I found myself in a disorganised rage emptying drawers of their entire contents in a bid to find my knee pads and my sleeping mat at 11pm the day before departure. Sleeping mat located and smelly old knee pads borrowed (thanks Dad!), we were off and racing. The race was a fairly spicy affair and I finished the weekend feeling like I'd spent two days clinging to my bike whilst a maniac hit me with a big stick and flicked mud in my eyes: excellent preparation.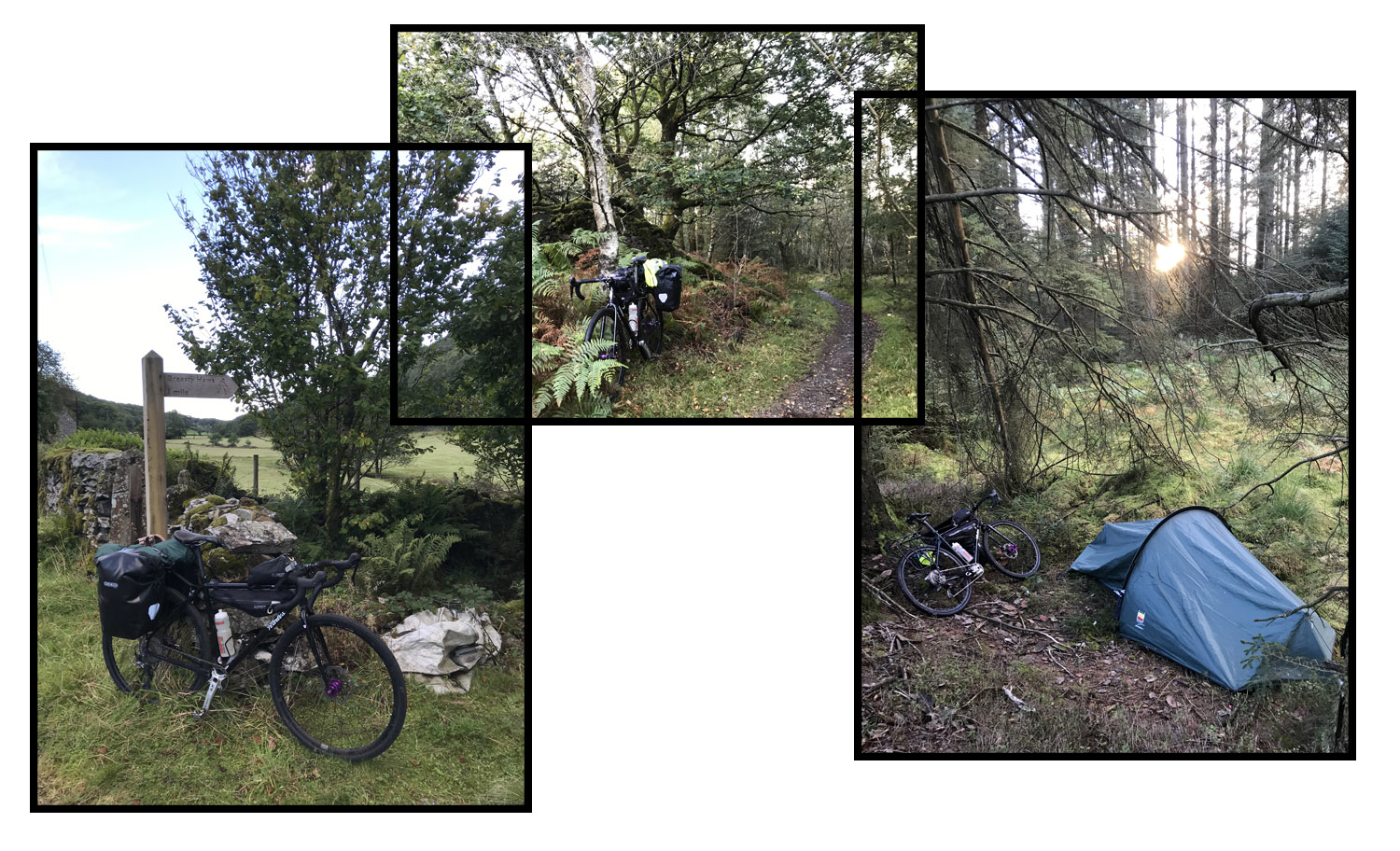 Not to be deterred, I loaded up my bike and twiddled off into the darkest reaches of Grizedale Forest for night one. Pitching camp for the first night would prove whether I had indeed packed the items necessary to keep me alive and dry and moderately comfortable for the duration of the trip. Being the first night I'd camped or bivvied on my own in ages; it would also clear up any doubt about the presence of cyclist eating sasquatches, bog sprites, giant ants or bogeymen.
Miraculously I survived the night with only a few ant bites and all subsequent camp‐spots were as successful as the first. Probably more testament to my levels of exhaustion than my proficiency in campsite selection, but a win's a win.
The riding through the lakes was marvellous! The weather had turned, so the drizzle and cloud denied me any spectacular Lakeland scenery, but I was getting to grips with the fully‐laden bike and the realisation that I'd bitten off quite a chunk of a trip. If I was going to get to Edinburgh with enough time for a weekend of catching up with pals (and eating half my own bodyweight in curry and pastries) I'd need to press on and keep pedalling; ruined castles and quaint tea‐rooms would have to wait for the casual cycle tourist, I was a tourist on a mission!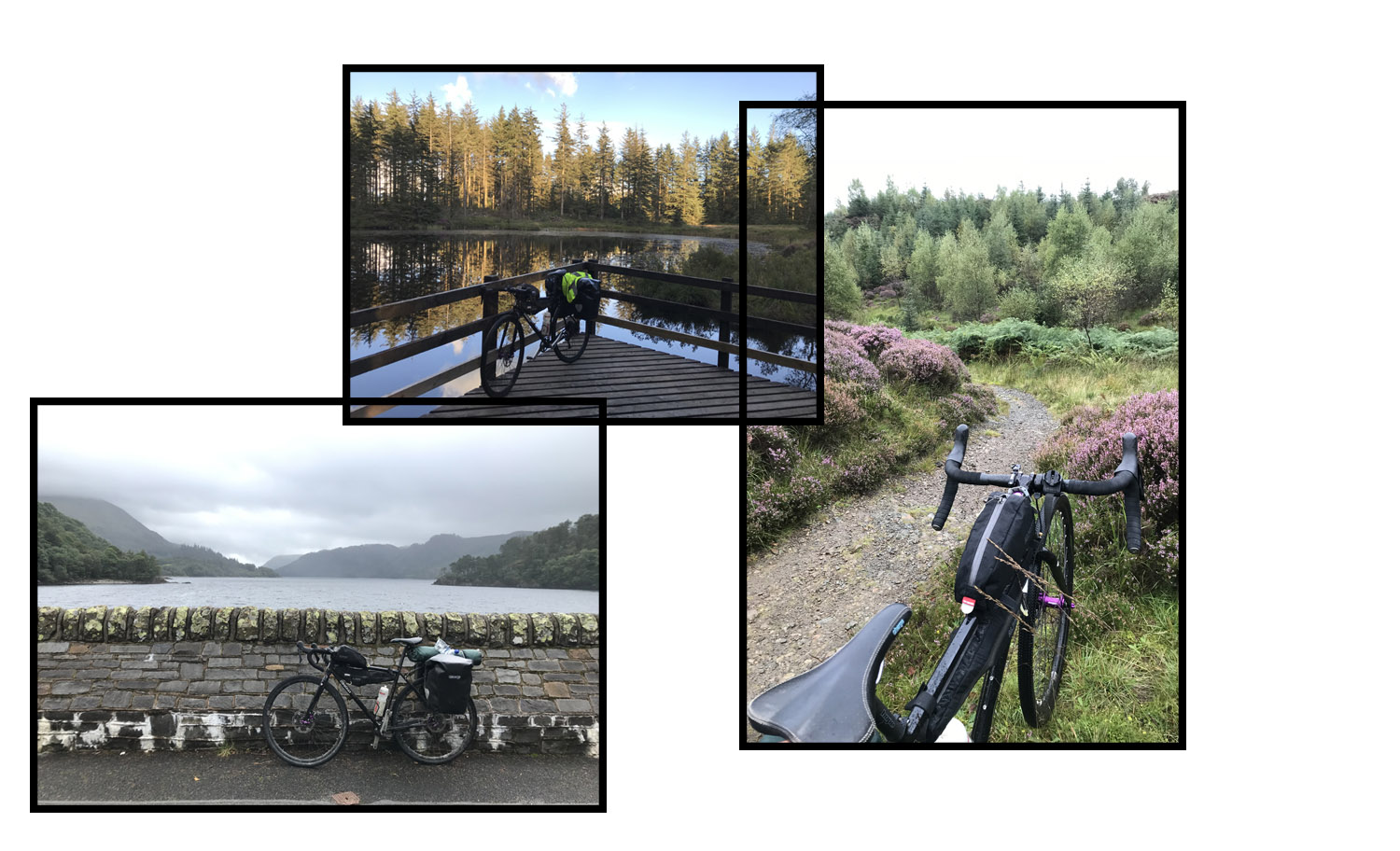 Day one's drizzle turned into day two's wind driven heavy rain, making the miles between Carlisle and the border seem pretty interminable. I ventured off road several times and the technical challenge of keeping the bike upright through some chundery limestone and slick clay miles was a welcome distraction from the soggy feet and overwhelmed waterproofs. In the mist and murk, I let my imagination get the better of me; picking the pace up and pressing on to the relative shelter of Kershope and Newcatleton forests to avoid falling victim to ghostly Reivers (cattle rustlers on horseback).
Once you've seen one commercial forestry block, you've seen them all, and forest roads are what my little bike was built for. So the third morning of the trip rolled by easily, with only a brief ditchbased interlude when I spotted a female Goshawk (!) whilst whipping along at 25mph courtesy of a sturdy tailwind. On to Bellingham and a giant jacket spud, tea and scone to see me through to bedtime.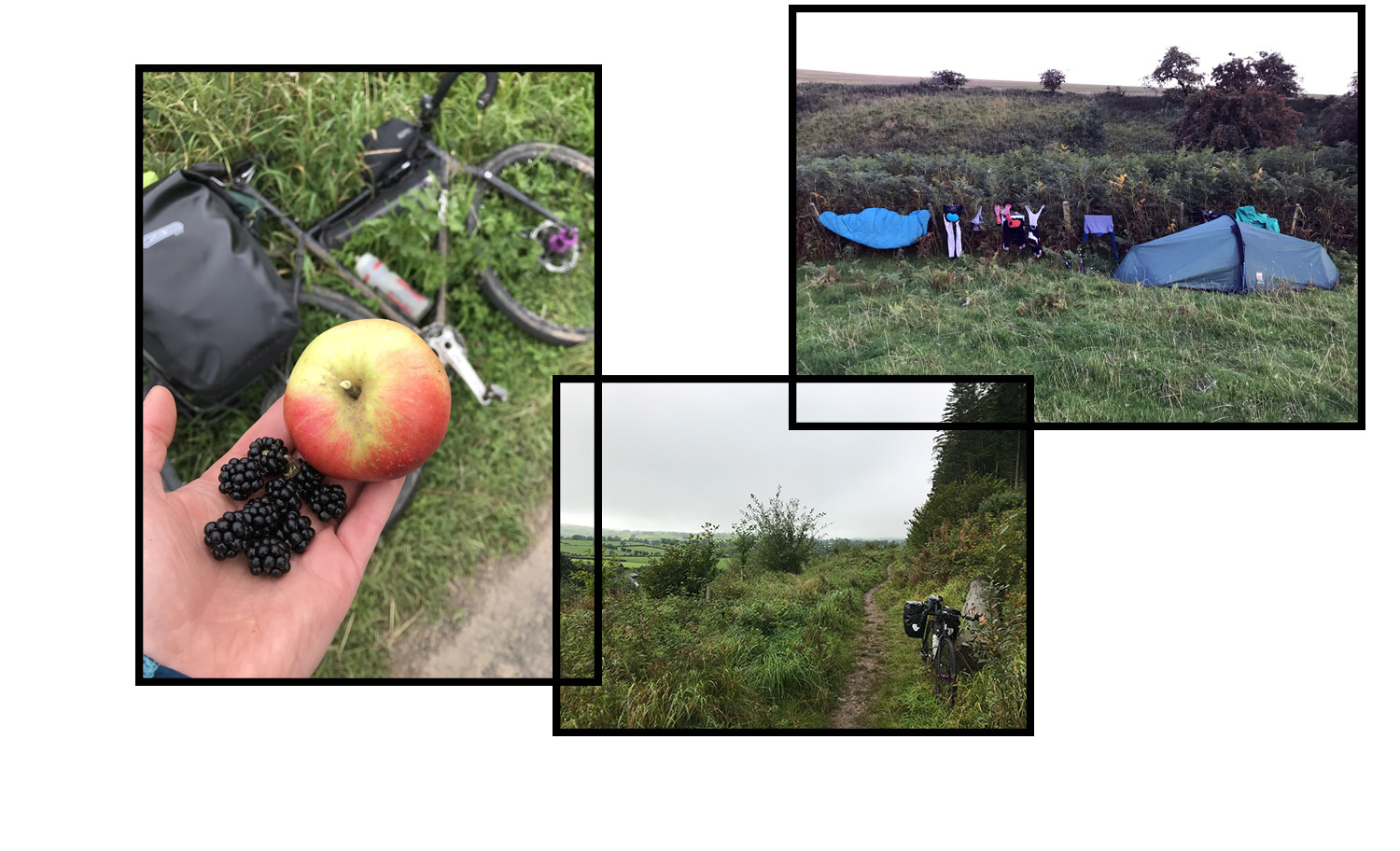 The morning of day four flew by as the previous day's tailwind had seemingly been encouraged by my grateful words and was gusting even more enthusiastically. Just as well, as Northumberland's hills are long and testing, but I was basically blown to the coast by divine providence. More offroading had me wiggling along through salt flats and sand dunes with the Scottish border once again in my sights. Berwick upon Tweed level unlocked; I pressed on North, running on fumes at this point but determined to find a camping spot on the side of the border with sensible outdoor access laws.
After a night only moderately disrupted by a rowdy and inquisitive family of shrews, I was raring to go. Just as well, as I was now heading broadly North West and my old friend the westerly tailwind was now a front wheel grabbing, energy sapping headwind.
Unlike most of the rest of the route, South Eastern Scotland was somewhere I'd never previously explored. The sandy beaches and rocky coves around Eyemouth and Dunbar were added to the long mental list of places to revisit when time and energy levels allow, and I pressed on North and briefly inland. National Cycle Network route 76 took me right past the ruined Hailes Castle and I finally had time to scratch the heritage site itch.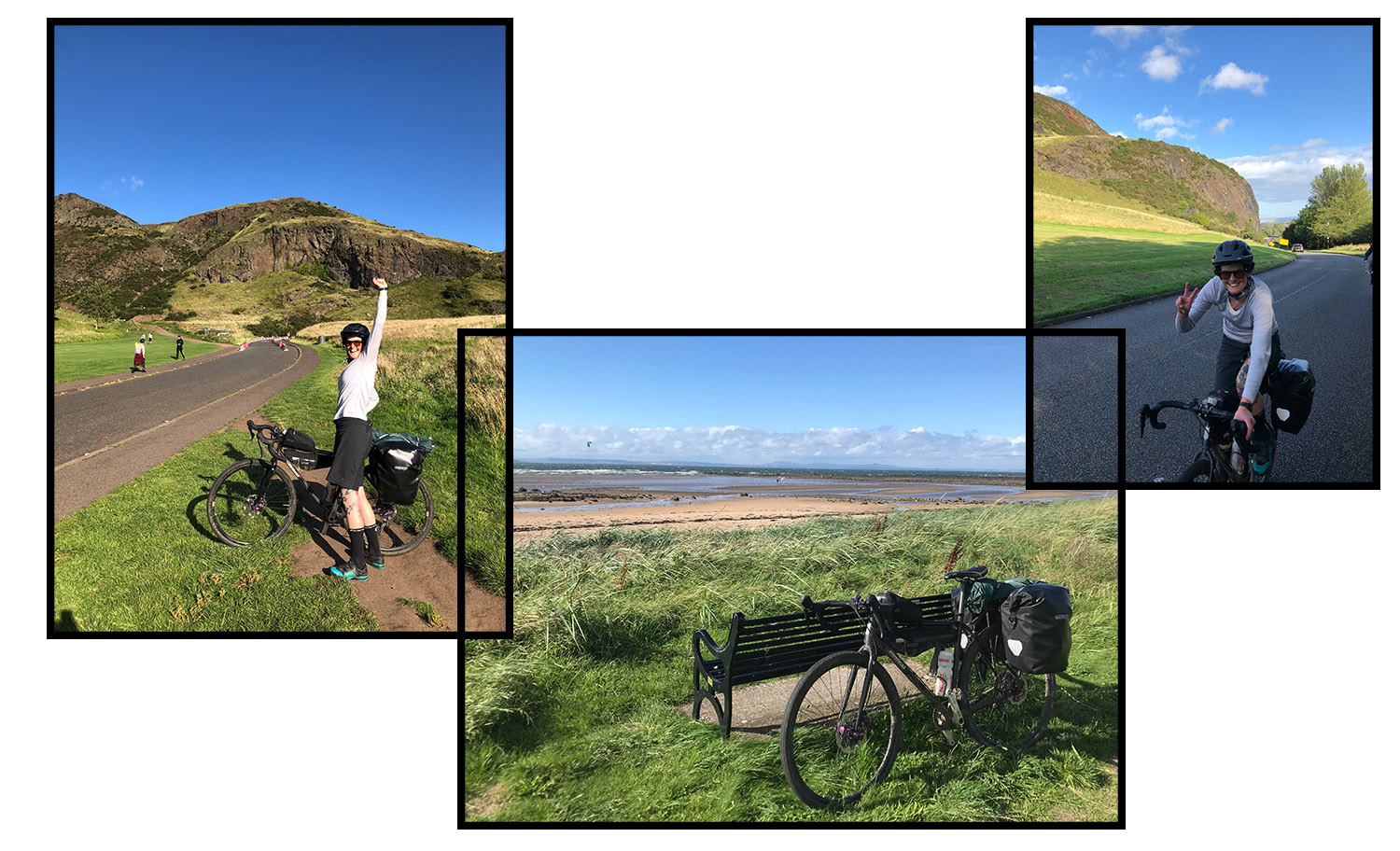 Back on the bike battling the vicious headwind and with my energy and navigational skills dropping pretty low, I was delighted when my brother turned up to greet me and chaperone me the last few miles into town. Following the obligatory detour to Arthur's Seat, it was time for a shower, a peshwari naan and a catch up with pals.
Prattling about the trip the way only an extrovert who's not interacted with another human for 5 days can; I realised how much I'd taken my bike for granted. Having built it up only a few weeks beforehand, this was the bike's first real test. "Did you have any mechanicals?" my husband asked, "Umm… actually… no!" – I was as surprised as anyone, knowing my appetite for destruction. My Hoped‐up little Fearless had churned away more than 320 gritty, muddy, salty miles and never put a foot wrong. Job done – cycle tourism level 1: completed it mate.

Photos & Words: Rosie Holdsworth
TOP