UK CARBON PRODUCTION

Keeping with our mantra of designed, tested and manufactured in Barnoldswick, every process in the production of our new HB.130 takes place within our Barnoldswick factory.
Producing everything in house has enabled us to finetune the geometry and make minor tweaks right up to the point of final production.
THE BIKE
The HB.130 is the second bike to come from our Barnoldswick bike works. Born, once again out of a desire to build a bike we wanted to ride, our engineers and designers have managed to create a bike we believe is an ultimate all-rounder.
We wanted a bike to defeat the local technical climbs but still tackle our favourite Lake District descents and trail centre laps. Geometry is key with the HB.130 and with the angles we've chosen, the bike is playful yet controllable in whatever situation you get into on the trail. The bike rolls on 29er wheels and features 130mm of rear travel, which creates a bike that chews up technical climbs, rips along the flats then thrashes the downs.
You'll also notice the HB.130's designers have paid particular attention to the aesthetics of the bike. The front triangle has a curvaceous, sleek look while the rear triangle retains that trademark Hope CNC look with beautifully machined chain stays. As ever, the full bike option is fully kitted out in the highest quality Hope components. However, for the HB.130 we are introducing a frame kit option for those who wish to put their own stamp on a Hope bike.

| | |
| --- | --- |
| | |
HB.130 FEATURES
29er WHEELS - Perfect for superior rolling capability.
130mm REAR TRAVEL - Choose from Fox or Ohlins with a custom tuned rear metric shock. There's enough travel to take the big hits, but not too much so the ride remains spritely.
CONTEMPORARY GEOMETRY – FLIP CHIP - For better performance up and down the trail. Flip your geometry to match the type of riding you are doing that day.
CARBON FRONT TRIANGLE - Hand laid using UK woven carbon fibres.
ALUMINIUM MACHINED AND BONDED REAR TRIANGLE WITH POST BRAKE MOUNT - That classic Hope CNC machined look. Hope use a unique method of bonding to create a super strong and compliant rear triangle. They've also switched to a post mount to allow a standard brake calliper to be fitted.
BOTTLE CAGE MOUNTS - Hydration is key to those long days in saddle, chuck a bottle in the cage and head out to the hills.
INTERNAL CABLE ROUTING - Internal routing and machined cable entry ports for easy access and neatness.
UNIQUE 130mm REAR HUB SPACING WITH A 17mm AXLE - Hope manufacture their own hubs so they used their engineering know-how to create a narrow backend with a huge 17mm through axle producing a strong and stiff rear triangle that can squeeze through the tightest gaps on the trail saving those rear mech scrapes. It's worked great on the HB.160 so they've continued it on the HB.130.
COMPONENT INTERGRATION Continuing the manufacturing theme, Hope can design and machine whatever components they need for the bike allowing them to integrate many of the parts to the frame. The BB, chain guide and head set are all custom to the HB and as they can control the quality of the parts, the bearings will last longer and are easily serviceable.
PRICING
COMPLETE BIKE – Hope, SRAM X01 and Fox components make up the complete bike
£6299/€7500/$8400
FRAMESET – Inc rear shock, hubs, headset, bottom bracket and seat clamp
£3950/€4700/$4950
UPGRADES
Even though the HB.130 is supplied as standard kitted out with most peoples idea of a dream bike, Hope are still offering a few key upgrade options including SRAM AXS groupset, Ohlins suspension and Santa Cruz Reserve wheels for riders wanting that extra individuality.

DEMOS DATES

18th Aug - Hope PrePeaks - Barnoldswick (booking required)
31st Aug/1st Sept - Mountain Marathon - Hope Valley, Derbyshire
14th/15th Sept - Ard Moors - N.Yorks Moors
HB.130 is available to test ride and order from a hand picked selection of UK & world wide dealers. We are in the process of appointing dealers in the USA so please contact us directly for us enquiries.
For more information and to locate your nearest dealer search via dealer locator.
More HB demos to be announced in the coming weeks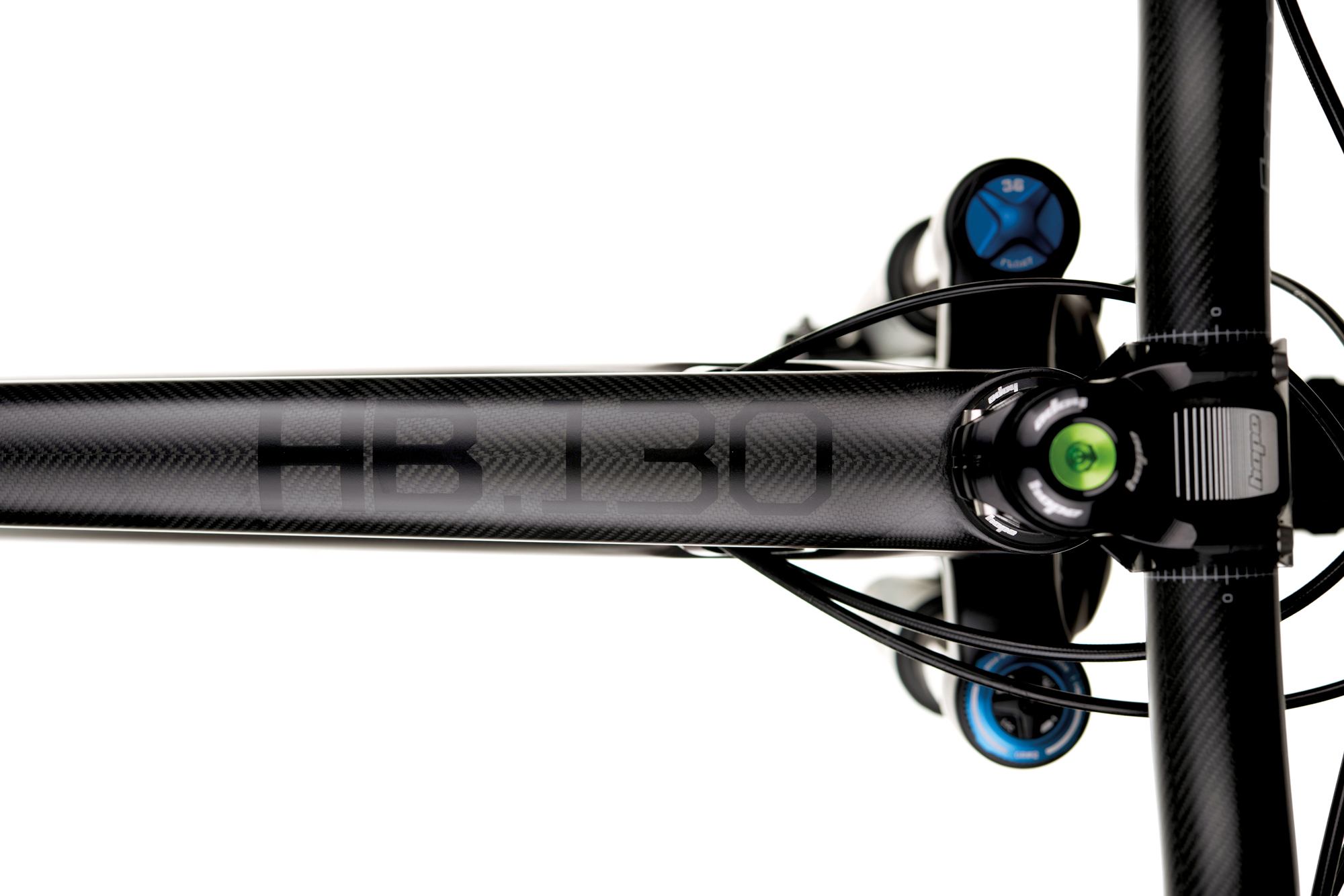 TOP