Hannah Christie is the Cycling and Events Manager for Forestry Englands West District. Her patch covers Shropshire to Cornwall and Wiltshire. Hannah has been in her role since January 2019 and is helping shape and develop the cycling offer in her area, as well as nationally for Forestry England. She's a well experienced outdoor education professional and enthusiast, having worked in the UK and parts of Europe with bikes and other adventure sports. Hannah previously worked at the trail centre in the Forest of Dean before starting with Forestry England. She's immersed in the bike industry as a coach and guide as well as years of riding experience.

Two sides of the coin - Part 1
Natural or off-piste mountain biking has always been at the root of the sport and it's evolution. Many of these trails may have existed before mountain bikes were invented, adopted from animal tracks, evolved through use, or have been built for another purpose. Many of these trails are also used by other user groups such as walkers and horse riders, and are often referred to as desire lines by landowners. Some off-piste trails also contain various levels of construction, examples include built up berms, jumps, drops, doubles, made from dirt and/or timber (some have even used bed frames!). Forestry England refer to these trails as unauthorised, they are not part of the rights of way network and/or do not have landowners permission to be there.

We then have purpose built/formal trails. In comparison, a fairly new innovation, however an important one. Formal trails have actively shaped our expectations and how we ride. I often look at this as comparable to climbing walls versus crags and boulders - trail centres are man made and artificial. Riders have been shaping the landscape since the first mountain bikes arrived. In the 90's, Wales, in an aim to make trail building reputable, initiated and developed the first UK trail centre at Coed-y-Brenin. Purpose built/formal mountain bike trails are now a major element of mountain biking in the UK, with some people never riding anything else. Riding at formal, purpose built trail centres however, is only one form of riding, as is climbing indoors versus outdoors.

So what was the reason behind purpose built / formal mountain bike trails?
Landowners had huge concerns over the spread of unauthorised trails and the impact on the environment. Additionally there were safety concerns from other user groups (i.e. walkers, horse riders) and contractors working the forests. In an attempt to manage these concerns and impacts, Dafydd Davis began creating trails at Coed-y-Brenin. The purpose, to give riders a formal area to ride, as well as assure the Forestry Commission that mountain biking can have a legitimate presence in the forests and that the sport could be managed and sustainable. The success of this new prodigy saw a multi-million pound project to create more centres across Wales. Scotland and England, a bit later to the party, followed suit with Forestry Commission sites across the UK embracing the movement. Formal trail centres are now vastly popular and have helped make the sport widely accessible and progressive.

The evolution of unauthorised trails has also vasty changed due to growing tends, bike capabilities and expectations for the sport. There has always been a presence with unauthorised trail building, mainly by experienced and skilled riders building in their local area. Most unauthorised trail builders do not seek permission to build unauthorised trails. This in recent months has escalated, almost as an expectation or entitlement for the sport, often with trails being built by riders travelling to the area and lacking local knowledge, building unreasonable features in areas which are already contentious. Many unauthorised trails will often see built structures formed from timber and/or dirt taken from its surroundings. Some of this is a tame attempt at building, some truly dangerous (why would you dig a 5ft hole over a drop??) with others developing exceptional works of art. I have been amazed with some of the authorised building I have encountered. I will also often amuse myself on Instagram scrolling through posts from the Trail Police (check them out if you have 5).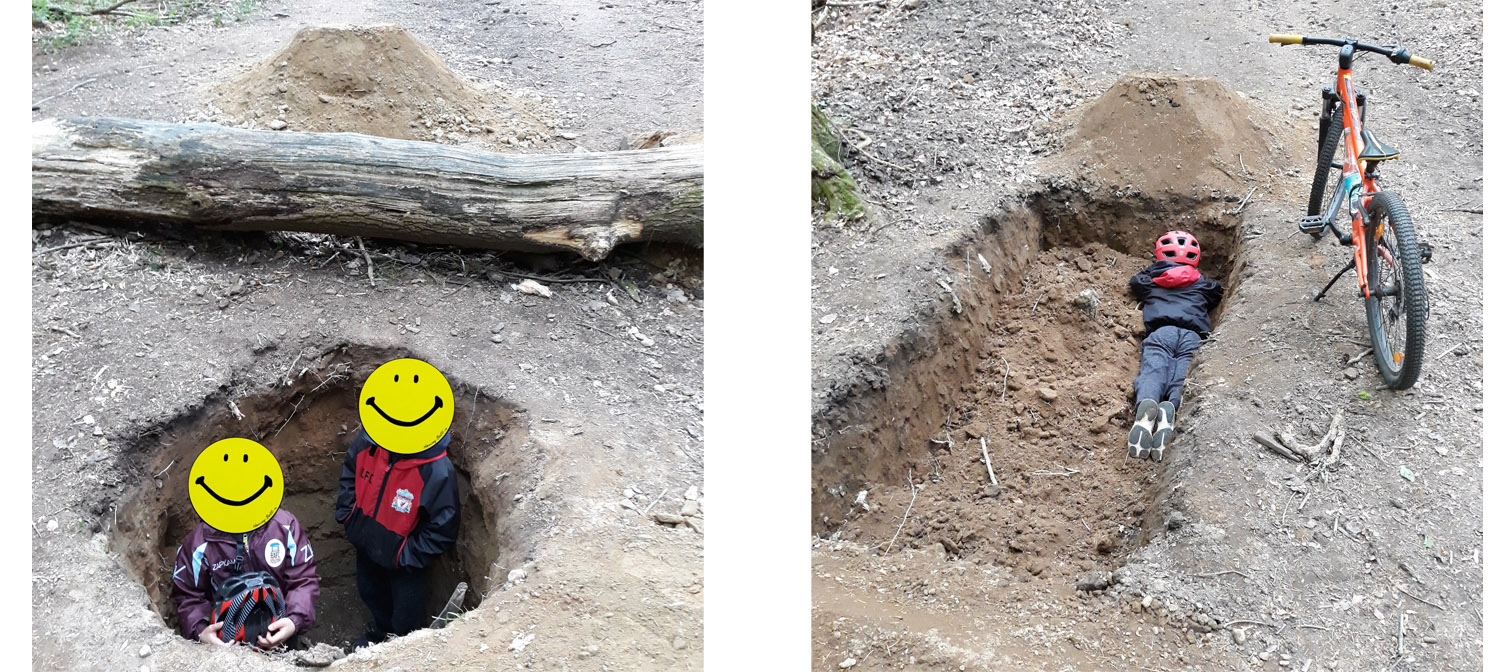 The older/more experienced generation of trail builders and riders have in recent months found themselves frustrated, concerned and disheartened by the behaviours and actions of those new in to the sport and trail building, building and riding with no consideration. In reality and in the eyes of the law, building trails and/or features without landowner permission is illegal. This presents landowners with a challenge from the moment a trail is scratched in, as they have a duty of care to all users and the environment.
Historically, some landowners have attempted to close the trails down. This could be for many reasons; they are not safe, in an inappropriate place in terms of land management, user conflict or environmental significance. In other instances, there are many great examples where local volunteer groups have gained permission and formed formal agreements with landowners across the UK to develop, formalise and maintain trail networks.
Another question for us to consider is - why do riders want to ride natural trails or off-piste?
Speaking for myself, it's where riding began for me. Growing up in the 90's, trail centres hadn't quite taken off. I love the exploration and adventure, as well as the challenge the natural terrain will present me with. I will often now seek to escape the hustle and bustle of the trail centre and head into the wilderness for tranquility and normality, as well as trails that look, ride, and feel differently. Prior to working for Forestry England, I didn't quite appreciate the impact this was having on the environment, or the access rights I was breaking. In England and Wales you are not permitted to cycle away from a bridleway, permitted byway, forest road or way-marked mountain bike trail, this includes land managed under CRoW (Country Side Rights of Way Act, 2000). In the eyes of the law you are trespassing. There is little information or guidance out there for many of us accessing the sport, which has partly contributed to the growth of cycling off-piste. I certainly feel torn in conflict between my profession and my passion. However, this could be an opportunity to drive for change. This form of riding in recent times has become saturated and is overwhelming what were quiet spaces. Unauthorised trail networks have doubled in size within months - with little consideration for the environment around it, other user-groups or the landowner themselves. The excitement of the pandemic has heightened user conflict and near misses (where an accident is only narrowly avoided) - posing huge liability concerns to landowners who hold a duty of care to all users. More accidents on unauthorised trails than ever have been recorded this year, with some severe and requiring multiple specialist emergency response units (not exactly releasing strain on the NHS!).
For landowners to manage safety and enjoyment of different user groups, user group separation is essential and necessary. Formal trail networks will consider and manage crossing points on forest roads, signage and mapping in their duty of care to all users and visitors. Additionally, consideration of ecosystems, habitats, wildlife and environments plays a huge part in where these formal trail networks are planned, agreed and laid. All of this becomes a challenge for land owners with unauthorised trails. Exit points on unauthorised trails will often shoot straight onto or across fire roads and/or interfere with walking rights of way networks and sometimes formal mountain bike trail networks. In addition to these safety concerns, some of these unauthorised trails are built and developed in SSSI areas, over badger sets and nesting sites of protected species, heritage features; all hugely concerning, and challenges presented to the likes of Forestry England, Natural Resource Wales and Forestry Land and Scotland (previously known as the Forestry Commission). Not everyone is aware of the Wildlife and Countryside Act (1981), where all wild birds in Great Britain are protected under this act. Further protection is given to some rarer species and to species vulnerable to disturbance and/or persecution. It is an offence to disturb, interfere and obstruct a bird from nesting. During nesting season this year in the Forest of Dean, two nests of scheduled 1 protected species (most vulnerable and protected species) failed due to the illegal trail building and riding beneath it. Even with the attempts by the landowner and police to close the trails and inform users, signage and barriers were torn down and ignored. This disregard and behaviour threatens the sport for the majority of us who do respect and follow signage and information. We also need to remember that the large majority of forests are sustainably managed, worked and maintained - another conflict posed towards mountain biking. Unauthorised trails have been formed through new forest crops and plantation sites - causing significant damage and financial loss to land owners. Riders ignoring harvesting signage also pose huge concerns and worries for staff attempting to work on the land. This is a worry, as well as disheartening and frustrating for staff attempting to carry out their work in a safe and controlled manner.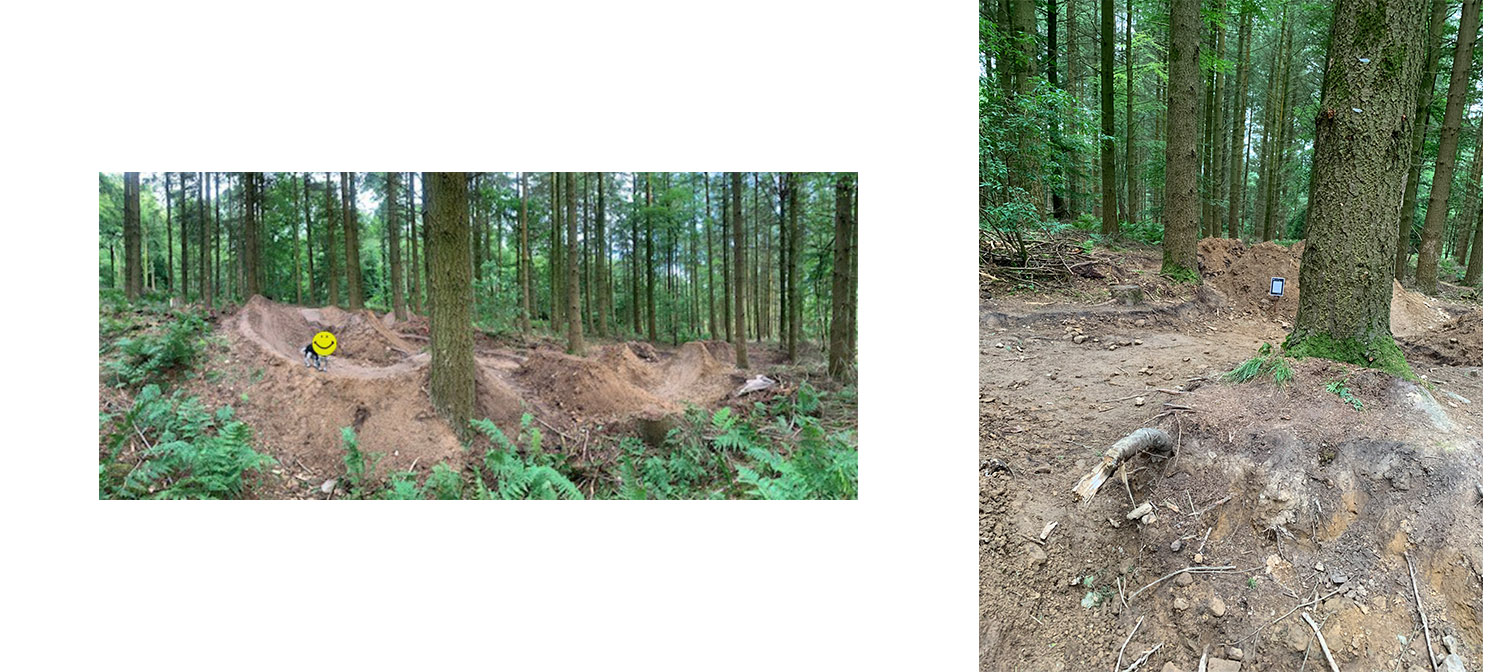 There is a huge need to educate and inform, especially new users accessing our forests and wilderness. Social media and the internet have made it easier than ever for riders to discover off-piste / unauthorised trails. App developers do have a level of responsibility with how accessible map and trail data has become. This puts huge legal impact on landowners and allows inexperienced riders to access trails they should really not be riding, as well as signposting trails that are not managed, maintained or inspected. Many of these trails require a level of experience, skill and ability. In years gone by information on the locations of unauthorised trails was sought after and often gained through local intel, which meant the trails were, in many ways, self policing.
Some key bits for us to remember.
1. If you are riding a trail that is not waymarked - it is not a formal mountain bike trail. It has not been approved by the landowner, inspected, maintained or managed. You are riding this trail at your own risk.
2. You have a duty of care and responsibility to take precautions and have an awareness of other usersenjoying the natural environment.
3. You need to gain landowners permission to build on their land. Whether it's private or public, this needs to be sought.
4. You also need to be prepared to be challenged by landowners who may inform you you are not permitted to build or ride in that location and be asked to stick to waymarked mountain bike trails, forest roads and bridleways.
5. Ride prepared - carry water, tools, spare layers, first aid kits, map - take responsibility for your own actions.
6. Follow forestry operational safety signage - it is there for a reason.
7. Respect other users, as well as trail centre staff and rangers (it is really sad that I am having to say this - but it is a result of the reality I have been presented with within my role and also as a rider, more so in recent months).
The acceleration of cycling and mountain biking has been vast in 2020. It has been fascinating to watch and exciting to see so many people out enjoying bike time. This pace has been hugely unpredicted and caught the industry unaware, especially in the midst of the pandemic. For the sport to be more sustainable and continue in a positive light, more information and awareness for those new and already in the sport is required. Infrastructure both on and off road should also be reviewed, especially in light of climate concerns. The question we need to ask ourselves; how can we as an industry, user group and facilitator support this ever growing sport to ensure its future is sustainable and not destructive? This should be an evolution not revolution.
TOP