IPCO moves 3 miles from the Nelson factory (1,500 sq ft) to a new factory in Colne, Lancashire (11,000 sq ft), the 'Hope Shed' later changed to 'Hope Mill'.

// 1991 Welcome Hope Technology
After 2 years of designing and making hubs and brakes for their own and friends use, Hope Technology is formed to make and sell disc brakes and hubs. The mechanical disc brake was the first product sold to the market.
1991 also saw Hope make its first 6 bolt disc specific hubs fitted with quality sealed cartridge bearings. The hubs resembled those used on trials motorcycles, but were not the same 6 bolt pattern we are now familiar with.
Interbike, Anaheim, USA – Hope first exhibit their brakes. There were brakes on 14 different show bikes around the halls. At this point, Hope only had 14 brakes... Hope's hubs started selling in big numbers in their native UK where US imported products are expensive. Hope gains a good following for their hubs alone. A satellite office was setup in California to service US sales.
Hope launch the Ti-glide rear hub, one of the first Shimano compatible, after market hubs. It used a titanium central body and titanium cassette carrier. It was light, strong and looked cool too....
A big investment was made with the purchase of Hope's first CNC machine.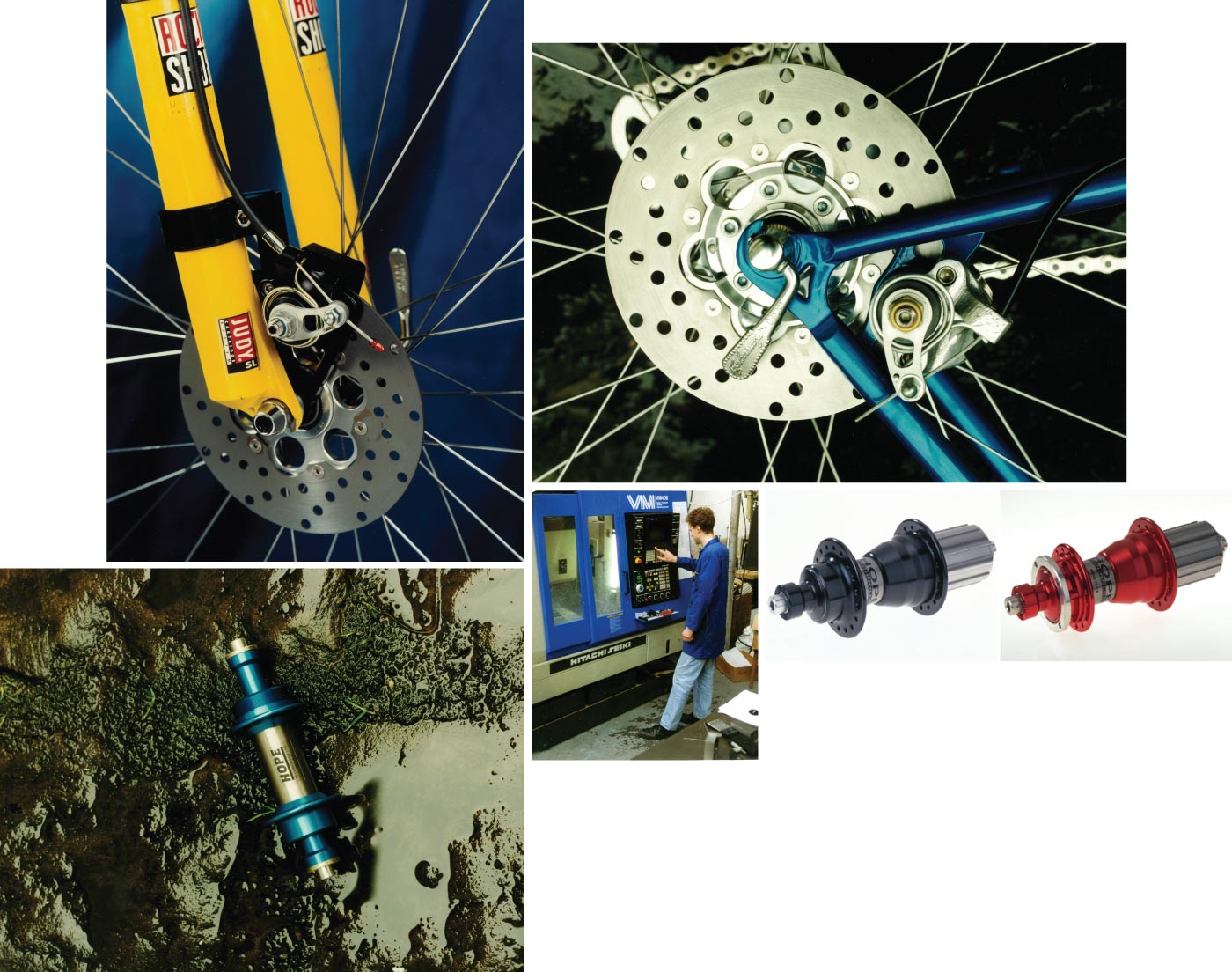 The Ti-glide rear hub was offered in a splined version due to demand from the market for a lighter disc hub. Machined skewers were offered alongside the hubs.

Hope introduces their first hydraulic brake, launched at Eurobike with a concept twin disc system. Production brakes were only available as a single disc. It was a powerful "open" system fitting to CNC'd fork adaptors at the front and custom braze-ons at the rear.
The Big'un hubset is also introduced. The hub had a 5 bolt disc fitting and used the 3 pawl ratchet system. The 185mm front disc is introduced for downhill racing. Hope switch to Kevlar reinforced hydraulic hosing.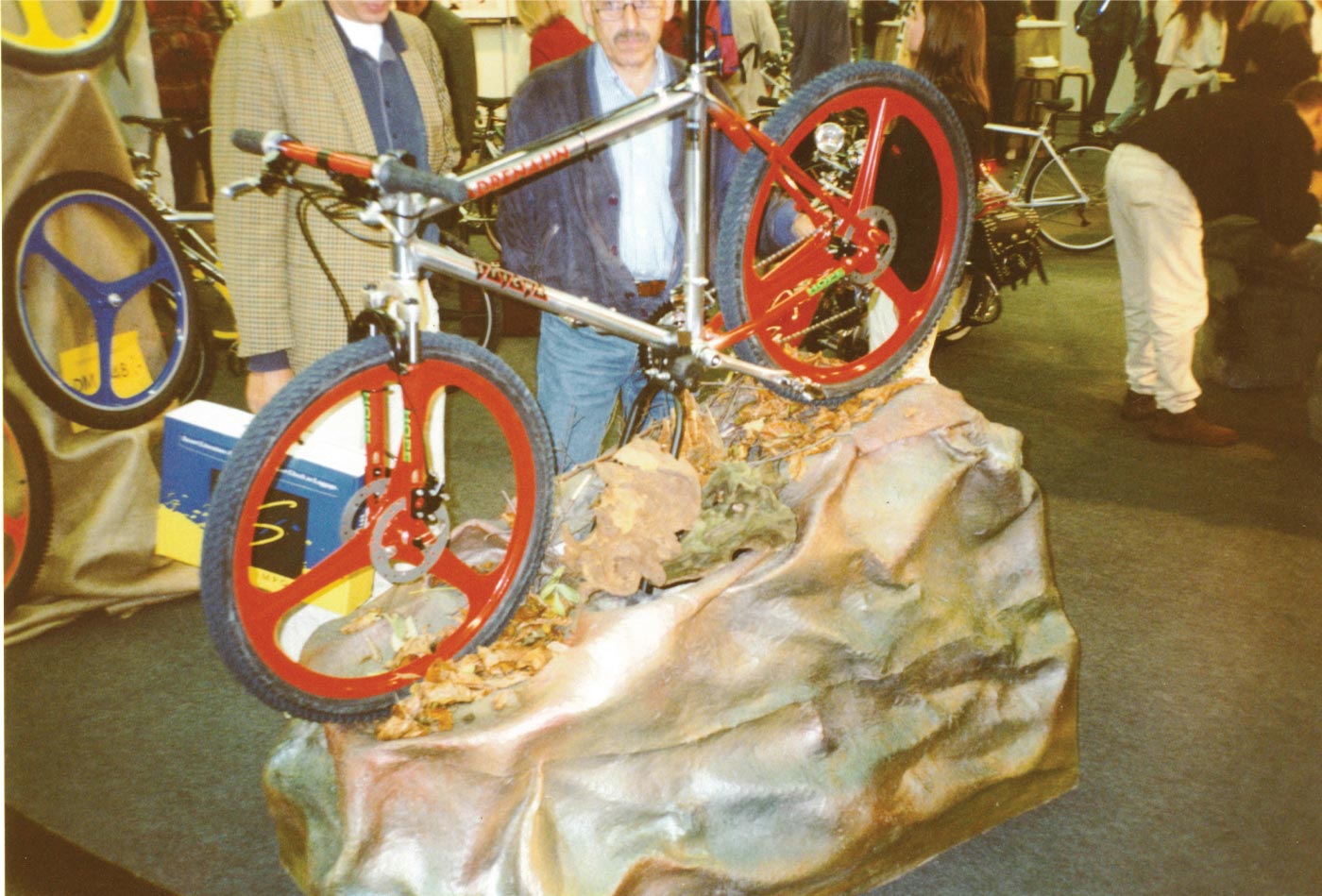 // 1996 Sporting Success
Hope's Sport lever – with its innovative thumbwheel adjuster is launched to create a completely drag free system – the C2 system was born. Due to their ease of use, power and mid-race adjustment, many pro riders start using Hope's hydraulic systems regardless of sponsorship obligations.
Hope have their first Grundig World Cup DH win with Rob Warner winning in the rain of Kaprun – see issue 135 of Dirt Magazine for the full review.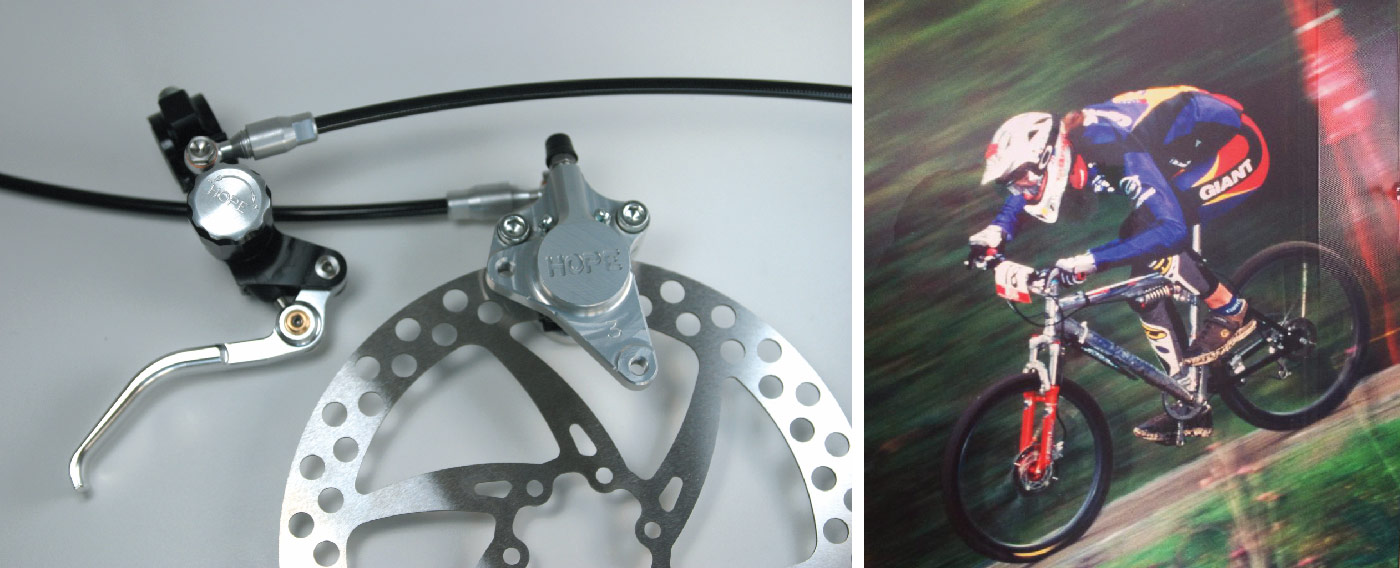 Ti-bottom brackets were put into production and sold for a mere £90 – bargain at the time!
Co-owner Ian Weatherill and employee Neil Arnold compete in the BCF downhill championships at Fort William, using Lawwill designed Yeti Straight 4 frames and Zzyzx forks designed by Hanebrink with 6" of travel and RockShocks DHO forks.
Hope's DH4 downhill brake is unveiled at Interbike, Las Vegas – using an open system. The Pro series lever is also introduced. The caliper gets lightened and slimmed down.
Hope's now Progress Manager, Woody Hole, competes on the international downhill Grundig World Cup scene, clinching some top 30 results on his GT along the way!
Hope expands again trebling the size of the factory with the move from Skelton St, Colne to Skipton Road, Barnoldswick (39,000 sq ft).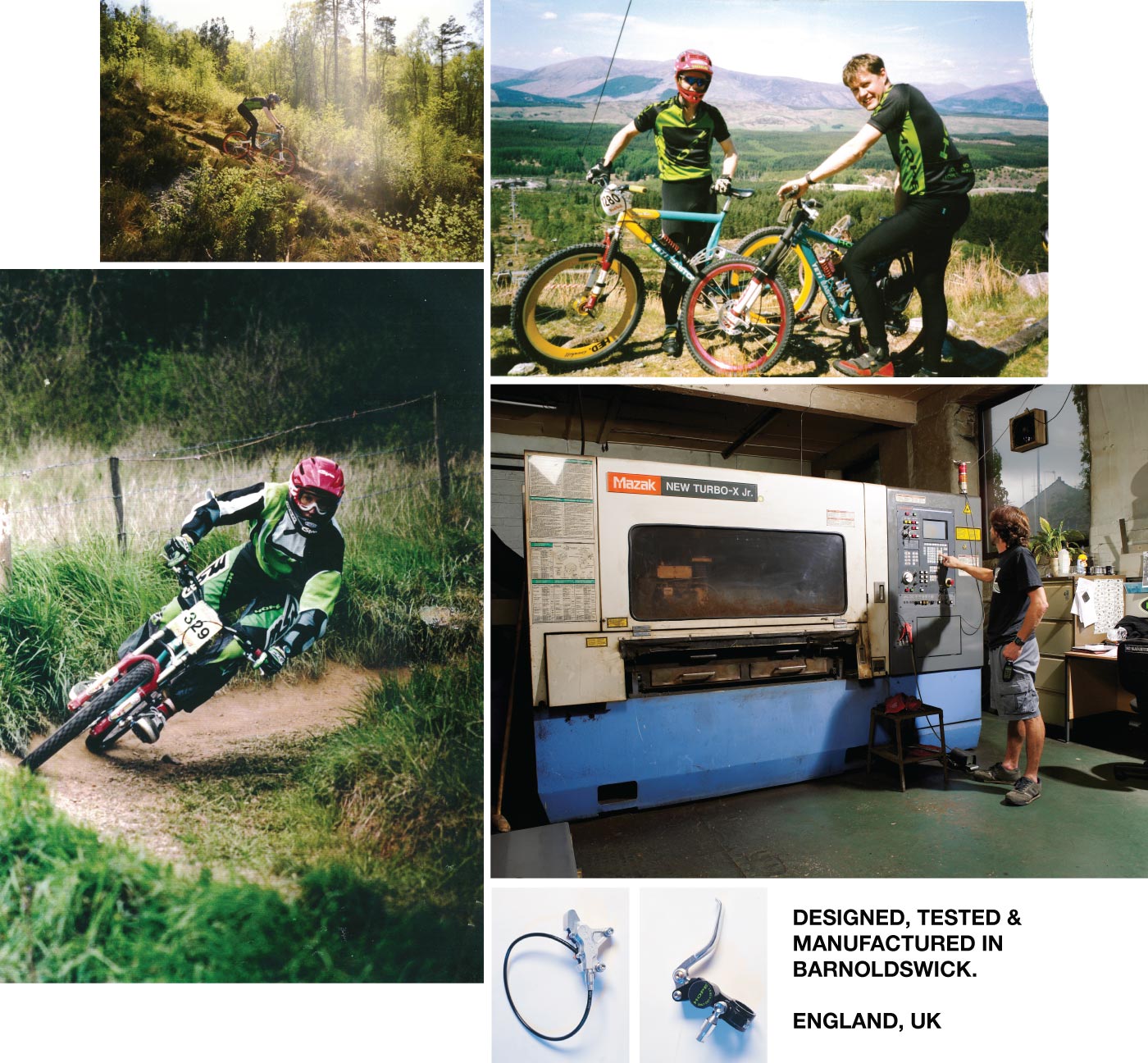 // 1999 The XC4 Is Launched
Steve Peat comes second in the World Cup series and wins the British National Championship. The whole of the British National top ten use Hope brakes. At the British National Finals, the whole top 20 (at least) are running Hope brakes.
Hope launch the World's lightest disc brake system, the XC4.