At Hope we have a reputation for producing products that last, even in the most demanding situations. We see that e-bikes are pushing conventional components to their limits, but our current V4 brakes and Fortus 30 wheels easily cope with the increased stresses.
E-bike cranks
Due to the unique stresses and pedalling action on e-bikes, strong shorter cranks are a must. It's an area that we feel many manufacturers have taken literal short cuts – using a 175mm crank and drilling the pedal mount further up the crank.
We know there is a better way, and have taken the forgings used in our well proven mountain bike cranks as a starting point. As we machine our components in house, we can ensure our 165mm e-bike cranks offer a true advantage by machining any excess material from the end of these shorter cranks. We have also selected material specifically for stiffness and durability in this high stress area.
The end result is a crank with all the stiffness, strength and reliability that Hope is known for, but one that is truly optimised for e-bike usage.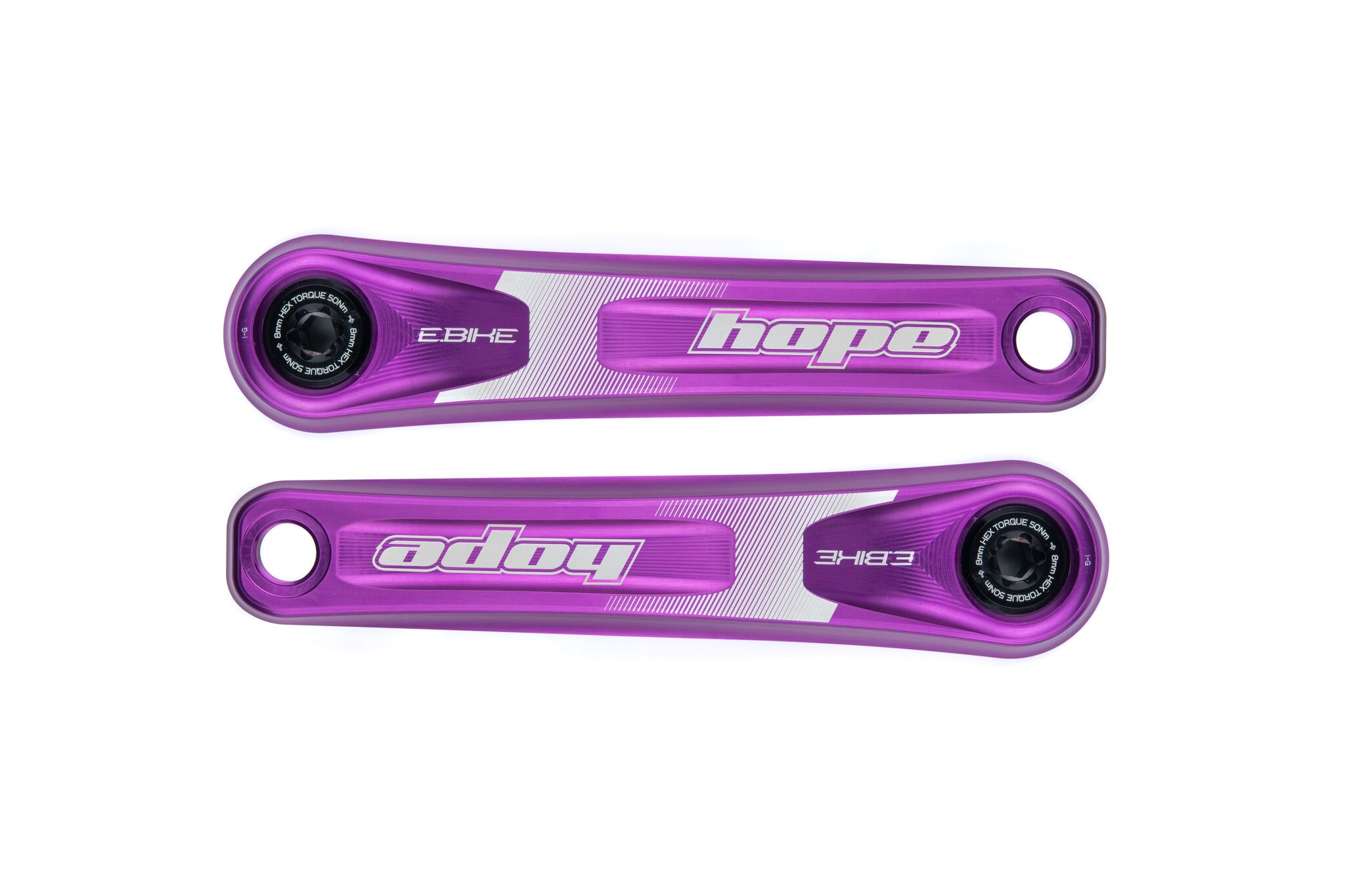 Features
Specifically designed for the latest breed of mountain e-bikes offering maximum ground clearance
165mm length
Forged and CNC machined 7150 series aluminium alloy crank arms
Optimised Q-factor for compatibility with most frame/motor combinations
*Compatible with motor systems using an ISIS spline axle/crank arm interface
Self extracting system for easy fitting and removal
Arms available in Black, Blue, Red, Silver, Purple and Orange
Proudly Designed, Tested and Manufactured in Barnoldswick, UK

Availability and pricing
Hope e-bike cranks are now in stock and available to order for next day delivery. As always, our e-bike cranks will be available in the full Hope range of six colours: Black, Orange, Red, Blue, Purple and Silver.
Price – £175/€225
TOP